Lots of activity happens around the refrigerator. To make sure you choose the right one for your needs read through our refrigerator buying guide.
Capacity 
Two people generally need ten cubic feet of fresh food storage and you should add an extra cubic foot for each additional person in your family. If you buy one that is too big and don't keep it filled, it wastes energy and costs more to operate. If it is too small, you waste time constantly rearranging food trying to squeeze it in. Consider the capacity of your current refrigerator and how well it fits your groceries before you decide to increase or decrease your model.
Configurations
There are four types of refrigerator configurations to select from. Think about the section on your refrigerator that you access the most to make your pick.
Top-Mount Freezer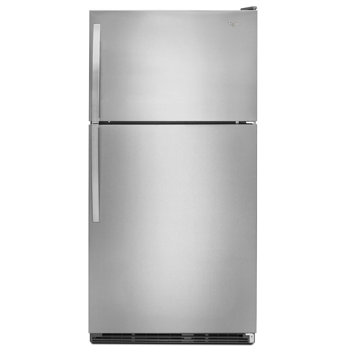 A top-mount refrigerator has the freezer at eye level, which the fresh food compartment on the bottom. These refrigerators tend to have wider shelves in both the fridge and freezer sections.
Side-by-Side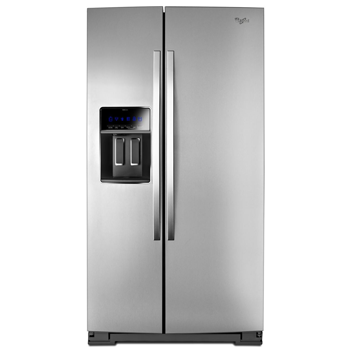 The refrigerator and freezer compartments are adjacent to one another and allow easy access to both compartments.
In some models the shelves are narrower than those found in top or bottom-mount models. Our advice is to select a model with adjustable bins and shelves so you can customize the layout to suit your storage needs.
Freezer on Bottom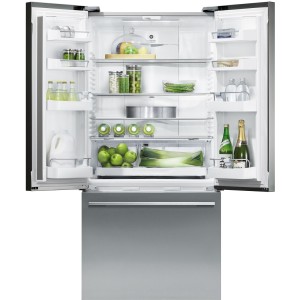 This option is a good one for households that want fresh food selections at eye level. With the freezer at the bottom of the fridge, less energy is used to keep the section cold, and cooling is more consistent and even. This configuration makes sense ergonomically because the most frequently used sections are located in the top compartment for easy access.  
French Door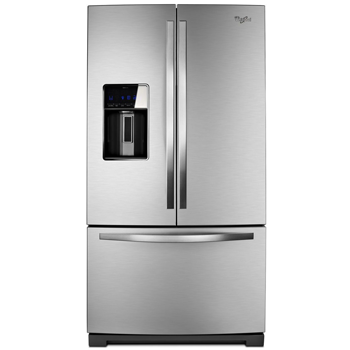 This increasingly popular style has duel refrigerator doors and a pullout freezer drawer for convenient fresh and frozen food storage. This style combines the best features of Freezer on Bottom and Side-by-Side refrigerators.
Features:
Door-mounted ice makers and water dispensers provide filtered water and ice on demand without requiring the door to be opened.
Clear shelves and door bins help you see what you have, no matter where it is in the refrigerator, and provide better access to items stored in the back.
Adjustable glass shelves will provide greater storage flexibility as your needs change.
Spill-proof shelves capture spills and prevent them from leaking all over the refrigerator.
Fruit and vegetable crispers often feature adjustable humidity controls, and meat compartments may feature adjustable temperature controls.
Beverage compartments specifically hold and dispense cans.
Wine racks.
Advanced lighting so that you can easily view fridge contents.
Dispenser child locks.
Ice storage bins.
Extra wide shelves.
Thawing/Defrosting capabilities.
Easy access slide out compartments and bins.
Dairy/Cheese/Butter/Meat compartments
Measuring to fit
Measure the space available for your refrigerator. Know the height, width and depth of the area. Take into account the clearances you will need in your kitchen to open refrigerator doors to remove pans and shelves from the unit. If you choose a refrigerator with an icemaker or ice and water dispenser, you will need access to a water line from behind the refrigerator for the water connections.
When measuring your space keep manufacturers recommendations in mind to make sure you accommodate for any special needs.
Energy Efficiency 
Your refrigerator can account for as much as 10 to 20 percent of the total power you use in one year. New models that are ENERGY STAR® qualified are extremely efficient. In fact, today's refrigerators typically use 30% less electricity than models built 10 years ago.