Before you buy a Kitchen Range take a few moments to read our buying guide and find out which range is the best fit for you and your kitchen.
Size 

To choose a range, measure the space available for your new range and use our simple table below to find out the oven cavity size best suited for your family:
Size of Family Oven Cavity Size 

1-2 people 2-3 cubic feet
3-4 people (small family) 3-4 cubic feet
4 or more people (large family) 4 + cubic feet
Style 

There are three different styles of ranges available. Think about the style of your kitchen to select a range that is best suited for it
Freestanding ranges do not need to be fitted into cabinetry and have finished sides with a backsplash. Gas ranges have controls in the front, while the electric ones have controls on the backsplash.
Slide-In ranges fit into the space between cabinetry and have a seamless built-in look with no backsplash. Controls are on the front of the range.
Drop-In ranges look similar to slide-ins and they also fit into cabinetry. Cabinet modification may be needed for a tight fit. Drop-ins usually rest on top of a toe kick plate matching the rest of the cabinetry.
Electric or Gas 

Here is some information to think about when choosing between electric or gas.
Electric Range 
Most models provide consistently good performance and flexible features for multiple cooking purposes. They allow you to maintain a very low heat which is not always possible on some gas models but it can be more difficult to regulate temperature with electric heat than with gas. Electric ranges are available in coil element and smoothtop designs. Sizes range from 20" to 30".

Coil Element Ranges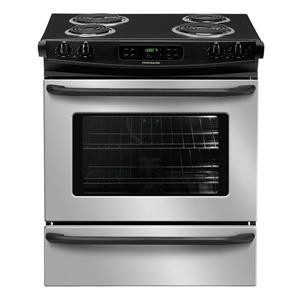 The coil sits above the range top surface or into a recessed cavity. The coils are more vulnerable to spills but drip pans capture spills and are easily lifted out for cleaning. These units provide an even heat distribution and are less expensive.

Gas Ranges 
You must have access to propane from your home to use a gas range. Gas range burners allow you to select different levels of heat which can cool down or heat up cookware almost instantly offering more precise temperature control. They are available in open burner and sealed burner and are the best for even cooktop cooking. Sizes vary from 20" to 60". They are typically more economically priced than comparable electric models, and they are usually cheaper to operate.
Higher quality gas ranges offer special burners for fast high output heat for quick boiling or searing. They also offer burners that hold a gentle low heat for simmering sauces and liquids.
Dual-Fuel Gas and Electric Ranges 
Dual-Fuel Gas and Electric Ranges combine the accuracy of a gas cooktop with the even and consistent heating of an electric oven. These ranges have the best features of both gas and electric cooktops.
Convection Oven 
There are many cooking benefits to using a convection oven. In addition to the standard bake and broil elements in the oven, there is a third oven heating element around a fan in the rear of the oven. This saves time and energy by decreasing cooking times up to 30%.
Features 
Today's Ranges offer a wide selection of features. Here are some for consideration.
Electronic temperature: controls allow for more accurate cooking temperatures.
Self-cleaning ovens: eliminate the need for strong smelling cleaning sprays and scrubbing.
Programmable timing options: allow you to preset your oven to automatically turn on and off and cook your meals even when you are not home.
Simmer burners: provide low gradual heat for a variety of cooking needs such as preparing soups and sauces.
High-heat burners: instantly provide cooking heat allowing you to quickly boil or sear foods as required, dramatically cutting down on cooking time.
Warming burners: keep cooked food warm and moist until you are ready to serve.
Dual element burners: Some electric ranges feature an inner ring for smaller pans and a large outer ring for larger pots and pans. A flick of the switch turns on the preferred size.
Bridge Element: A link between two main elements on a smooth-top cooktop that can be controlled as one to create a large surface for large pans and griddles.
Adjustable oven racks: allow you to adapt your oven to particular cooking needs.
Multiple broil settings: allow you to broil different types of food at optimal temperatures.
Seamless or continuous grates: allow you to easily slide heavy pots between burners without doing any lifting.
Hot surface indicator lights: alert you that a surface may still be hot even though it is powered off.
Measuring to fit
Measuring the space that you have available for your range. Make sure you know the height, width and depth of the area you want the new model to fit into.